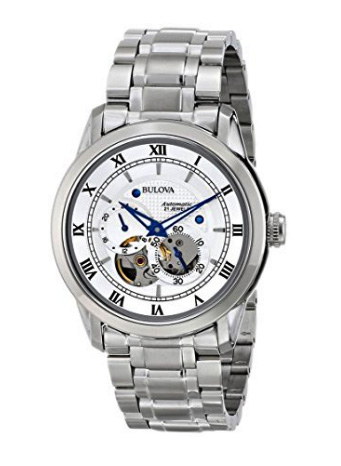 Quick Facts:
The case diameter is about 42 mm
It has a 21-jewel movement
Great look for cost
Quality bracelet but lightweight
BUY NOW ON AMAZON
To complete this list is another watch from the Bulova brand. The 96A118 is an elegant watch with a catchy dial appearance just like the self-winding mechanical watch from Bulova. To help you make a more informed decision about this watch, we have provided a critical review of the 96A118.
Features
Luminous dial hands
Mineral crystal window construction
White colored
Indigo-blue colored dial hands
Analog display
Marks on the dial are indicated by Roman numerals
The mineral crystal has a domed appearance over the face
The case diameter is about 42 mm
The thickness of the case is about 11.2 mm
It has a 21-jewel movement
Hand winding the watching is possible
Double clasp
The dial of this watch has two sub-dials; one measures the time in seconds, the other indicates a 24-hour display
It has a crown located on the side of the watch
Partial skeleton sub-dial which allows you to see through to the jewel components
Pros
Sensational appearance
Bracelet is lightweight with no discomfort all day
Automatic winding
Decent clasp
Quality stainless steel bracelet
The contrast between the silver dial and the indigo blue color of the hands of the watch makes it easy to read the time
Cons
Pins which are supposed to make the bracelet firm appear loose
The hands of the watch might be luminous, but they don't radiate enough light in the dark
A bit inaccurate
The mineral crystal window construction isn't scratch resistant
It doesn't store enough power, so it requires winding rather often
Summary
The Bulova 96A118 Dual Aperture Watch is a sleek watch. The contrast between the silver dial and indigo-blue hands of the watch not only makes it easy to read the time, but also makes it even more appealing. The dials, sub-dials and the skeletal dial might draw attention to the watch. Having a 21-jewel movement enhances the accuracy of the watch. While it might require frequent winding, the Bulova 96A118 is still worth considering. If you want a convenient and affordable watch with an attractive look, the Bulova 96A118 wouldn't be a bad idea. You can check out the watch through the link above.
BUY NOW ON AMAZON