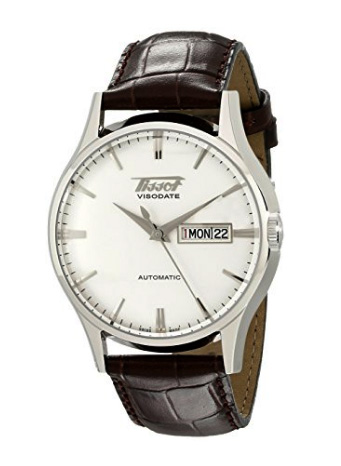 Made by the popular Tissot brand, the Heritage Visodate is a classic watch. It might not have any of the more contemporary functions typical of modern watches, yet it does exactly what it's meant to do—tell the time. For a breakdown of what makes the Heritage Visodate tick, let's consider the features of this watch.
Features
White dial
Sapphire crystal window protection
Stainless steel case
The diameter of the face measures about 40 mm
Immobile stainless steel bezel
The watch has the conventional hands typical of classic watches
Numbers on the dial are represented by discernible bars
There's a compartment for date display at the 3 o'clock position
Watch has a standard circular shape
The case has a thickness of about 11 mm
Swiss movement
The band is made from calfskin
Easy-to-fasten buckle
Pros
Simple dial
Water resistant to a depth of 100'
Classic look
Time accuracy
Lightweight
Cons
Costly
Reserve power dries up with days
Faster by about 10 seconds
Frequent winding required
Summary
The Heritage Visodate is a classic watch. It's a great dress watch, no doubt, but you will need to be conscious of winding it daily to avoid time accuracy issues, especially where it counts. At under $500, it represents an upgrade on the antiquated Japanese watches, yet it might not possess the level of sophistication needed to challenge at the top.
BUY NOW ON AMAZON