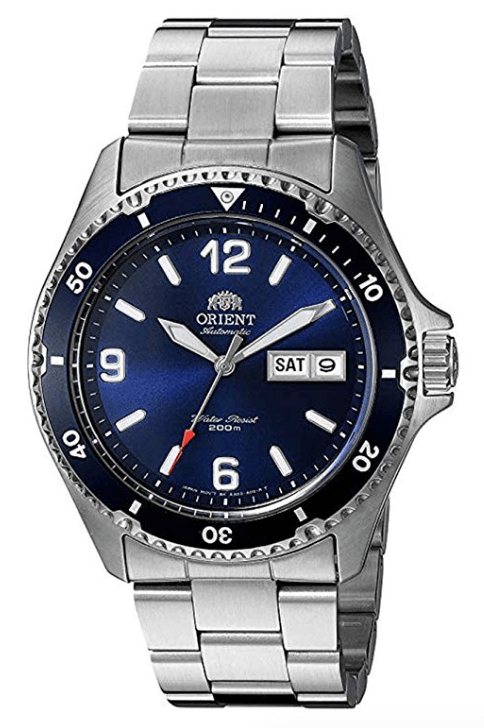 Quick Facts:
Amazing value and 4.4 out of 5 stars out of 450+ reviews
41 millimeter case width
13 Millimeter thickness
Water resistant to 660 Feet
Great for small to average size wrists
BUY NOW ON AMAZON
Orient, as a watchmaking company, has been killing it in the automatic market for over 65 years and is without a doubt one of the most popular, and affordable, watches out there today. The pros definitely out-weigh the cons for the price but there are some things to consider if you're interested in buying this particular Orient automatic. Take a look below are the features of the Orient Mako II Automatic Diver.
Pros
Great for small to average size wrists
Extremely water resistant(660ft)
Gorgeous blue dial
Very popular automatic diver (4.4 out of 5 on amazon)
Reliable watch brand for over 65 years
Cons
While it has great water resistance, it is not suitable for deep diving
Its kind of heavy
Some people are saying the watch gains a few seconds per day
Summary
Though some have complained the Orient Mako II automatic loses/gains 5 to 10 seconds of time per day, the value you get for the price is undoubtably worth it. The watch has options for different color dials and is gorgeous no matter which you choose. The Mako is also probably one of the most popular automatics on the market right now. In the end, the Orient Mako II is a great automatic diver for anyone.
BUY NOW ON AMAZON