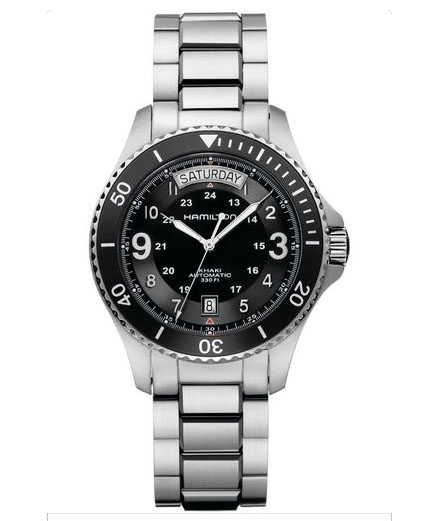 Produced by the renowned Hamilton Watch Company, this automatic watch might come across as expensive when compared to similar diving watches. If you are familiar with the Hamilton Khaki Navy Scuba Auto Watch and would like to purchase it, you can visit the link above. To paint a clearer picture of the attributes of the Navy Scuba, we have outlined some of the features of this Hamilton watch.
Features
The dial of the Navy Scuba is sleek
The hands of the dial glow a dull green color in the dark
Bezel moves in one direction with a 60 click construction
The dial of the Navy Scuba displays the day in full
The hour and minute hands appear ordinary
The numerals '9' and '3' are emboldened on the dial
It has a sapphire crystal window
The dial has a diameter of 41 mm
It is made of stainless steel
The watch case has a thickness of 14 mm
Pros
It displays the full name of the day like TUESDAY
The movement of the second hand of the Navy Scuba Watch is elegant
The crown is easy to adjust
Water resistant to a depth of 328'
Displays the date
Comes with extra slips for the bracelet
Cons
Donning the bracelet of the Navy Scuba can be a big ask
The dial is complicated with so many things going at the same time.
Heavy
Dial appears smaller than the case measurement suggests
Summary
The Navy Scuba is a great watch, but simplicity isn't its strongest armor. Perhaps, it's rather conspicuous. A lot seems to be happening on the dial, and this might not be a great attribute for some users. This Hamilton watch is not as convenient as one would expect for a watch of its price range. However, when watches built with sophisticated components are mentioned, the Navy Scuba watch makes the list every time.
BUY NOW ON AMAZON