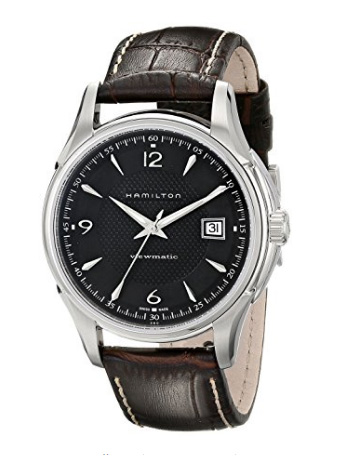 The Jazzmaster is another Hamilton watch considered on this list. Just like the Khaki Field, it's simple and stylish but with a much wider face. This automatic watch comes highly rated if reviews by current users are anything to go by. If you want to check out the Jazzmaster, you can visit the link above. Aside from the name which has a nice rhyme to it, the Jazzmaster has some unique attributes which will be examined in this review.
Features
Wide face
It has a case diameter of 40 mm
Sapphire crystal window construction
The case has a stainless steel build
The thickness of the case is about 11 mm
Stylish appearance
The luminous hands of the watch all have the same color
Black colored dial
The only Arabic numerals visible on the dial are 3, 6, 9, and 12. The numeral '3' has been replaced by a compartment for the date function.
Brown leather bracelet
Buckle clasp
Large crown
Sapphire crystal protection for the back of the watch case
Seconds enumerations visible on the dial
Immobile stainless steel bezel
Automatic movement
Pros
Resistant to a maximum water immersion depth of 165'
Crown is easy to adjust
Durable
Large dial display
No batteries
Classical appearance
Cons
Requires 15-17 winds for a 40-hour working time
Bracelet seems rather flimsy
Rather too simple for the price
Summary
The Hamilton Jazzmaster analog watch is one of the classic watches available on the market. It is simple, convenient and holds its own. The sapphire crystal protection on the face of the watch is one of its strength. However, when it comes to weaknesses, the Jazzmaster has its fair share. One of such is its manual winding time which seems far too long.
BUY NOW ON AMAZON