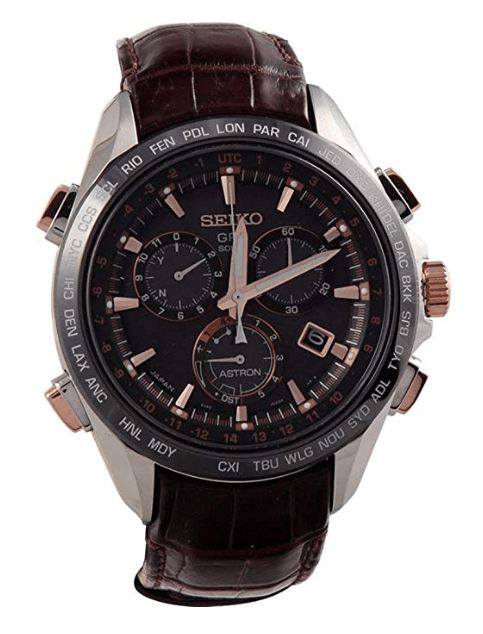 Quick Facts:
44 mm case diameter, 13 mm case thickness
Solar charging and it works well
Crocodile leather strap with buckle
GPS locks in quickly and reliably
Sapphire crystal
Amazing quality for the price
BUY NOW ON AMAZON
The Seiko Astron Titanium doesn't make the sub-$1,000 price bracket, but it does need a notable mention. It is one of the best semi-automatic watches, delivering astounding value which far exceeds its cost. This is a watch that matches higher-priced options in every way, outperforming most of the competition in terms of performance and affordability. Anyone considering a feature-packed automatic watch needs to take a look at this excellent offering from Seiko. We'll be taking you through a look at exactly what makes this such an outstanding timepiece.
Features
Anti-reflective sapphire glass protection
Brushed titanium casing
44 mm case diameter, 13 mm case thickness
Solar charging
Crocodile leather strap with buckle
High readability brown dial
Japanese automatic movement
Chronograph
Date and world time
Water resistance to 100 m
1 lb. weight
Pros
Solar charging works well
GPS locks in quickly and reliably
6-month power reserve
2-year standby operation
Sapphire glass comes with anti-glare coating
Lightweight for its size
Practical controls and easy to use buttons
High accuracy movement
Cons
Water resistance isn't good enough for diving
Chronograph buttons could be more tactile
Fairly large watch
Summary
The Seiko Astron features an 8X82 movement which is capable of being charged using solar power but runs off a standard battery by default. When fully charged, you've got a power reserve of about 6 months without being in sunlight. Astron's chronograph measures up to 5 hours and 59 minutes, while a perpetual calendar, GPS, and world time for 40 different time zones are also featured. The movement is accurate to within 15 seconds per month if you don't use the GPS to regulate the watch instead; this will keep your time dead-accurate all the time. This is one of the most practical watches reviewed featuring easy controls which are well manufactured and sure to last.
Astron's Easy Controls
The upper right button starts and stops the chronograph while the lower right button resets it. Hold in the lower left button for three seconds to put your watch's antenna off. This feature is ideal for travelers, functioning similarly to airplane mode on a phone. Hold in the upper left button for six seconds to search for a new GPS signal. Locking onto a satellite typically takes under 2 minutes.
The crown pulls and in one easy click, allowing you to move the central chrono. You turn the crown forward or backward slightly to adjust time zones if you can't find a GPS signal to adjust automatically. There are tons of other features provided by the Seiko Astron, and they are all just as easy to work. From a useful power reserve to daylight savings time, everything is practical and intuitive.
Feature-packed Value
It's a great looking watch with a great depth of detail in its dial. The sub-register areas appear to float atop the face while the luminescence works far better than most other watches at night. The rose gold matches the main hands and hour indices which rounds off the look of this stylish watch really well. Despite the large size and wealth of features, this is a watch which remains sleek and compact.
Even though this watch doesn't have an actual mechanical heart, it is still one of the best semi-automatic watches around. You'll never need to fuss with setting the time and winding the watch is replaced by simply wearing it in sunlight. Unless you're a die-hard mechanical self-winding fan, this is your ultimate option for a practical watch for day to day use and even outdoor sports and events.
BUY NOW ON AMAZON