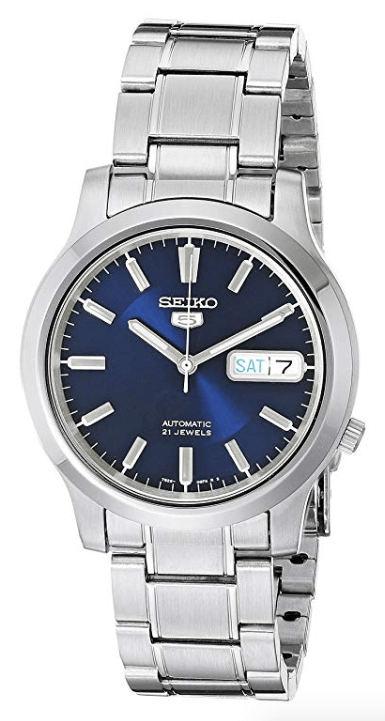 Quick Facts:
Case has a diameter of 36mm. Great for skinny wrists
Clasp is of the deployment variety
Date display at the 3 o'clock position
3-year warranty period
VERY affordable
BUY NOW ON AMAZON
The Seiko 5 SNK793 Automatic Watch has a look which is perhaps too good for its price. It belongs to a range of Seiko watches with a small dial. At its price point, the Seiko 5 SNK793 is a watch worth considering. As for the suitability of this Seiko automatic watch for anyone with a small wrist, we have compiled its features, strengths, and weaknesses. You can check out the Seiko 5 SNK793 through the link above.
Features
Classic appearance
Simple dial
Hardlex dial window construction
Case has a diameter of 36mm
Analog display
Immovable stainless steel bezel
Stainless steel case and bracelet
Clasp is of the deployment variety
The crown is diagonally positioned on the case and might require you to remove the watch from your arm to adjust the date.
Blue dial
Date display at the 3 o'clock position
Bar markers
Case thickness of 11 millimeters
Luminous hands
Transparent case back
Sweeping movement of the seconds hand
Bar markers
Silvered colored hands
Pros
Great look
Self-winding
Simplicity at its finest
Convenient clasp
Perfect for a small wrist
Easy to read dial
Has a costly appearance
3-year warranty period
No battery needed
Cons
Lacks manual winding
Bracelet isn't durable
Loses some seconds every day
No hacking movement
Stops after hours of zero activity
Reports of Seiko failing to honor warranty
Summary
The dark navy blue color of the Seiko 5 SNK793 and the silver color of the stainless steel case and bracelet give the watch an appearance which is often poorly betrayed in pictures. It's a classic and certainly represents value for your money considering its reasonable price tag. The lack of manual winding option and sufficient power storage are some of the few attributes detract from the overall package. However, it remains a great watch at an amazing price.
BUY NOW ON AMAZON