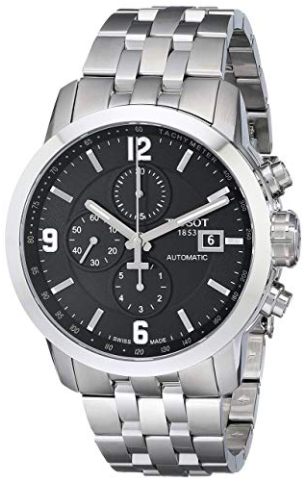 Tissot is probably one of the most popular, reputable, and widely distributed brands of wrist watches out there today. This brand is now a part of the Swatch Group, the largest producer and distributor of watches today.

Just to give you an idea of the Tissot brand name and its popularity, these watches have been proudly warn by people like, Elvis Presley, Grace Kelly, Nelson Mandela, Michael Owen, Danica Patrick, Nicky Hayden, and many others. This is the kind of watch that celebrities wear.

However, lucky for everybody who is not a celebrity, the Tissot Men's T0554271105700 PRC 200 Stainless Steel Automatic Watch is absolutely beautiful, accurate, rugged, and it does not cost all that much. In fact, this particular watch is a little less expensive than the first one that we looked at above, yet it is no less functional or attractive.

The Tissot T0554271105700 PRC 200 Automatic Watch is made with only the highest quality of components to ensure an insane level of durability, accuracy, and of course a really stylish look too. Tissot is a Swiss brand that has been around for over 150 years and they continue to pump out awesome products like this Tissot T0554271105700 PRC 200 Automatic Watch. You can wear this particular automatic watch at home, to dinner, on a date, or to a big business meeting. It is nice enough for any occasion, and rugged enough to boot. The fact that you don't ever have to wind it is just a big bonus as far as we are concerned.

Features
Stainless steel casing

Swiss automatic movement

Self-winding

45-hour power reserve

Anti-reflective sapphire dial window

Analog display

Stainless steel link bracelet

Fold over clasp

Water resistant to 660 feet

60 second, 30 minute, 6 hour displays

Date display

Luminous hands and markers
Pros
Extremely accurate time telling

Very durable construction

Various time displays

Easy to read due to luminous hands and markers

Easy to maneuver and secure clasp

Water resistance

Very stylish

Not all that expensive considering its high quality design
Cons
Not waterproof

Chronometer function does not always work

Case is thick and heavy
Summary
Some people have noted that the Tissot T0554271105700 PRC 200 Automatic Watch is very big and heavy, which may be true, but other than that, we think that it is truly an excellent watch to go with. For one, the extreme time telling accuracy afforded by the Swiss-made timepiece is out of this world. If you need a self-winding watch that is going to continue to provide long-term accuracy, this is the way to go.
Moreover, the fact that this watch is so easy to read is also a bonus. The super-clear and scratch-resistant face, combined with the luminous hands and markers makes a big difference. The overall level of durability is quite impressive, as the stainless steel case and bracelet, and the water resistance can attest to. We like the clasp, as it is easy to maneuver and it is very secure as well.
Of course, the fact that the Tissot T0554271105700 PRC 200 Automatic Watch comes with a 45-hour power reserve, combined with its automatic function, is something that we greatly appreciate. Moreover, having so many different sub dials is pretty neat. All in all, if you need a good automatic watch for under $1,000, one that is durable, accurate, and stylish, the Tissot T0554271105700 PRC 200 Automatic Watch is probably one of the very best options you could purchase at this time.
BUY NOW ON AMAZON