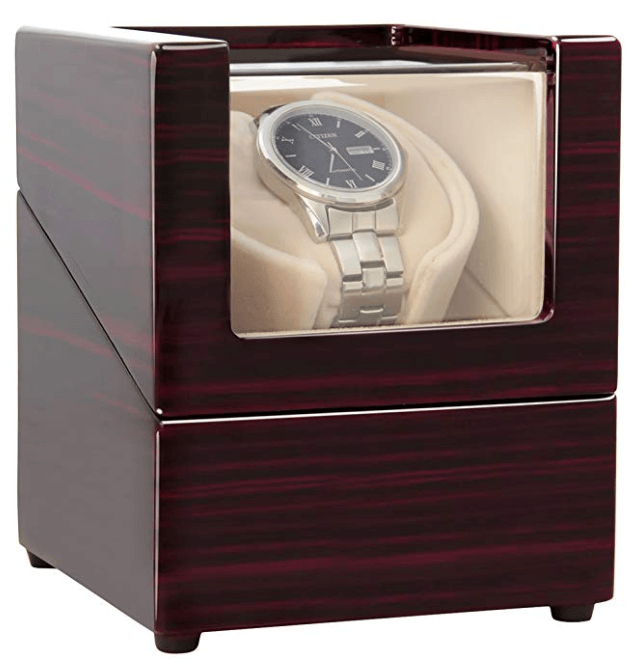 Quick Facts:
Facts coming soon. Page under construction.
The next watch winder we will be reviewing is the CHIYODA Wooden Single Watch Winder with Quiet Motor-12 Setting Modes. It is created by the famous CHIYODA brand and is highly regarded as a fantastic model. However, does it live up to expectations?
Features
The CHIYODA Wooden Single Watch Winder comes with all these features:
Completely handmade, and comes with a solid wooden box
Is finished with a high-gloss ebony
Elegant, high-class look
Noise isolating, so there is no annoying sound
The motor inside is made by the Japan company MABUCHI, so it is long lasting
There are two knobs controlling the directions (you can direct it clockwise, counter-clockwise, or even both)
The inside is soft and durable
Comes with an AC power adapter, or you can use a 1.5V battery
Comes with an 18-month warranty
Pros
One of the greatest looks of a watch winder
High-end looks
Handmade
The motor is quiet
Great size for all watches
Fantastic price—super affordable
Cons
Limited ways to move the watch inside it
The pillow that the watch goes on is small
Should use a lightweight watch in it
Summary
The CHIYODA Wooden Single Watch Winder has a great, quality look because it is 100% handmade. We really appreciate the look, However, only lightweight watches go in it, as we don't think it could hold a larger sized watch.