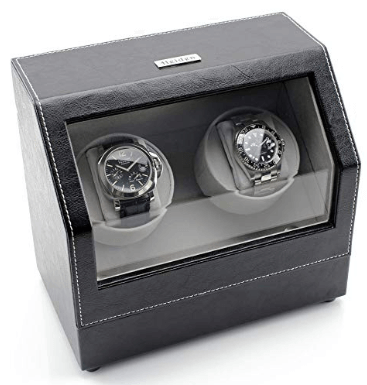 Quick Facts:
5.125" x 9.5" x 8.5" in length, width and height respectively
Can simultaneously hold two watches
Beautiful leather casing
1-year warranty
BUY NOW ON AMAZON
This Heiden brand automatic watch winder has been redesigned to meet the demands of customers and to better serve its users.
Features
It's rectangular, measuring 5.125" x 9.5" x 8.5" in length, width and height respectively
New features added include easy-to-use settings to set the winder's daily turns and direction for each watch holder
Has push button found in front of the winders to easily turn on and off
Features a new spring-action watch pillow to hold a wide range of wristband sizes
The interior space has been expanded to house large-size watches
The winder can either be powered by an AC adapter or batteries; both come with the packaging
It has four motor settings of 650, 950, 1,250 and 1,850 turns per day, and three directional settings
Each motor has its own settings, and each winder also has separate regulatory mechanisms and settings
Comes with a 1-year warranty
Pros
The winder has an easy and silent operation
Can simultaneously hold two watches
Its black leather gives it a stunning look
Very suitable for watch collectors who use different brands of automatic watches
Has ample space for large watches
Winds and stores watches well
Cons
Might have shorter battery life than specified by the manufacturer
Cheap material
Bulky
Summary
If you are in need of watch winders for your big watches, then this Heiden product is worth considering. It has been greatly upgraded and tailored to the demands of users. Click the link above and see all for yourself. Hope you'd soon testify to its quality.
BUY NOW ON AMAZON