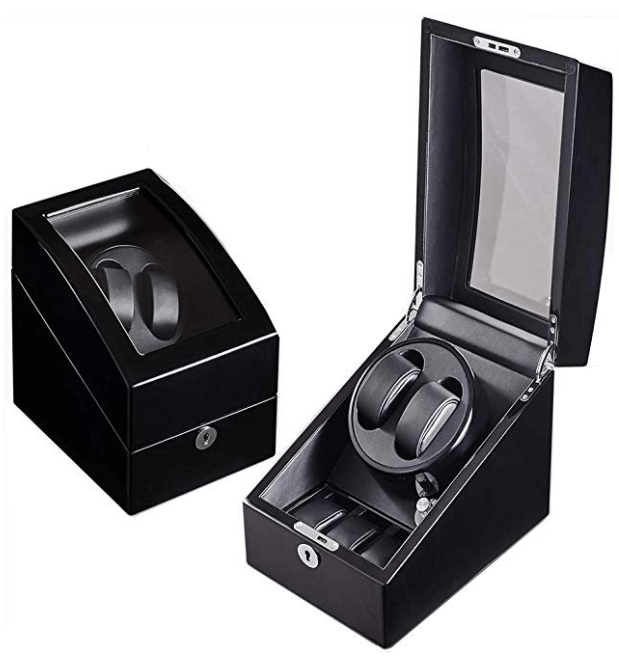 Quick Facts:
Facts coming soon. Page under construction.
This is a Japanese made double automatic watch winder which gives you a consistent and quiet operation, making it a winder you can rely on, and its longevity is assured. JQueen is a popular name in the industry. The JQueen Double Automatic is one of their many watch winders and it comes under scrutiny in this review.
Features
It's 100% made of high-quality wood
Measures 7.5" x 8.3" x 9.2" and weighs 8.4 lbs.
Has built-in Japanese motor which is powered by a battery or AC outlet
The motor functions to rotate the pedestal that holds the watch
It's vertically designed
Black lacquer mirror finish with thick glass or Plexiglas window
Comes with two large leather type pillows and three smaller ones
Has dual power supply of either AC adaptor or battery
Pros
Secure hinges and locking device
Noiseless motor operation
The pillows are firmly secure which makes it perfect for moderately sized watches
Can be used for Seiko Kinetic watches
Can store three extra watches
Quiet motor operation
Illumination is an added advantage
Cons
The pillows are too small for big watches
The motor can become noisy with time
Small sized watches might not fit firmly into the pillows
Summary
This JQueen's vertical design will save space for you. Its dual power supply of either AC adaptor or battery gives it an edge for consideration. Have you been looking for a surprise gift for a loved one? Think of the JQUEEN double automatic wood winder.