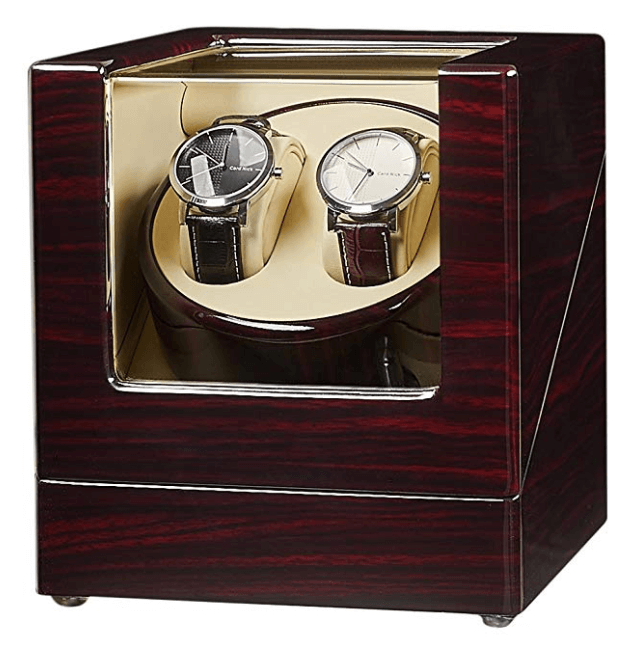 Quick Facts:
Facts coming soon. Page under construction.
Do you have two automatic watches and don't want to keep winding them? If yes, you might need the JQueen Watch Winder to keep them functioning when not on your wrist. This is a popular winder produced by JQueen which comes with a Mabuchi motor. To provide a more detailed insight of this JQueen watch winder, we have a review of its features, as well as some of its strengths and weaknesses.
Features
An acrylic glass window to display deluxe watches
Fitted with two turntables with a soft watch pillow of PU type
The watch winder motor has three directional settings: clockwise, anticlockwise and bi-directional; and four program settings
It has a dual power supply
It measures 9.1" x 7.1" x 7.9" and weighs 5.7 lbs.
Pros
Reliable winder
Noiseless operation
Well-built and robust
Durable
Rugged
Prevents scratches to the watch
Automatically resets the day/time
Most users report not just excellent working of this winder, but also exceptional customer service
Fast delivery of the winder
Excellent packaging
Cons
Motor becomes increasingly noisy over time
Acrylic cover scratches easily
Summary
The piano varnish appearance of JQueen watch winder gives it an attractive look. The lacquer finish offers protection to the outer casing. Tired of resetting your automatic watches yourself? The JQueen double watch winder is a possible solution to your problem. It can serve two watches at the same time. Its sophisticated level of transparency ensures the dial of your watches are perfectly displayed.