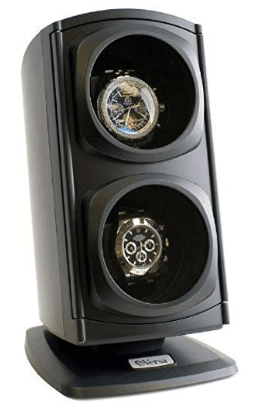 Quick Facts:
Facts coming soon. Page under construction.
The Versa Automatic Double Watch Winder is a newly upgraded winder which comes in black and was designed and modified in the USA. The Versa is perhaps one of the more established watch winders on this list. What makes it so popular? We will find out from the features outlined below.
Features
Measures 9" x 6" x 9.2" in dimension, and weighs 3.1 lbs.
Has a built-in Japanese Mabuchi motor
Has power supply adaptor of 100-240V capacity and accompanying instruction manual
Fitted with spring action pillows
The winder turns four times daily and has three direction settings—clockwise, anti-clockwise and bi-directional
It turns for about five minutes, and its non-operational time varies depending on your settings
Pros
Individual parts of the Versa Automatic Double Watch Winder have been tested and proven safe for watch use
Its quality parts and Japanese Mabuchi motor with their custom design gearboxes minimize noise level
Does not over-wind your watches
1-year warranty
Customer service is prioritized
Suit different kinds of watch models
The built-in smart timer winds and rests alternately
It can wind all brands of automatic watches because of its multiple programs and settings
Affordable
Cons
Reports of issues with illumination
It could stop working completely when one of its motors gets damaged
Summary
If you have tried different automatic watch winders and were disappointed, maybe it's time you consider the Versa. The Versa automatic watch winder not only serves your two watches at the same time, it's suitable for almost all brands of automatic watches from the Omega and Tissot to the Bulova, Vacheron and a lot more. The spring action pillows have additional attachments for larger watches, so you need not bother about your watch size. You don't have to worry about your watches being over-wound since its motors have been set not to wind continuously.