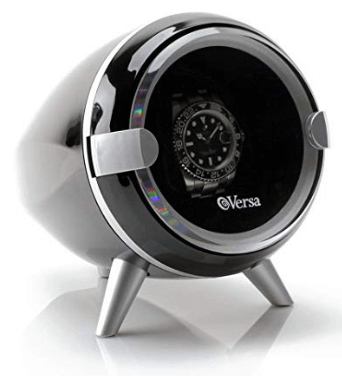 Quick Facts:
Less expensive, yet works great
Very compact
Prevents dust accumulation
Warranty is 1 year
BUY NOW ON AMAZON
Are you a traveler and need a watch winder for your ventures? This single watch winder for automatic watches that comes in black could make the ideal choice for you. What makes it any different from other watch winders? One attribute which stands out is it stops at the 12 o'clock mark to create a nice view and presentation.
Features
Has multiple program settings to wind all brands of automatic watches
Multiple daily turns
It rests at the 12 o'clock mark
Has a compact size
The winder motor is a Japanese Mabuchi type
Has ample interior space for large and oversize watches
It comes with an adapter of 110-240v capacity
Manufacturer's warranty is 1 year
Pros
This winder is cost-effective solution for smooth working of automatic watches when not on the wrist
It is equipped with a small footprint and a watch holder
Easy-to-control settings
Less expensive, yet works great
Keeps your watch wound without fear of over-winding
This single watch winder gives you peace of mind
It can serve as a watch winder, case display and a nightstand type of clock
Prevents dust accumulation
Cons
Can be a little bit noisy
It can accommodate only one watch at a time
You might be disappointed because it's all plastic
A few users complained of poor customer service
Summary
There are few watch winders small enough for you to take with you while you are traveling, but the Versa Neo Single Watch Winder is one of them. This watch winder has some great features which gives it an edge over the competition. The Japanese Mabuchi motor and gear designs enhance its performance. Its compact size endears it to travelers and makes storage easy.
BUY NOW ON AMAZON