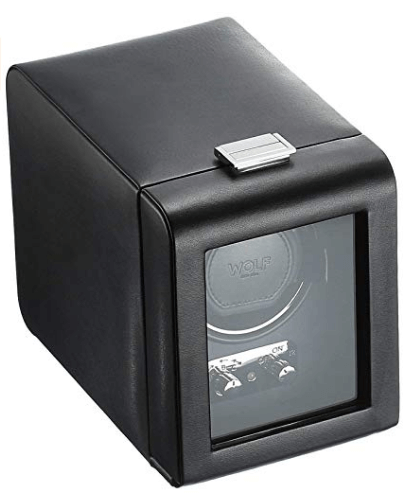 Quick Facts:
Facts coming soon. Page under construction.
The final automatic watch winder we will be looking at is the WOLF Heritage Single Watch Winder. Yes, this is another one from the brand WOLF, but they make some of the best automatic watch winders that you can find. They are reliable and they have a fantastic customer service.
Features
The WOLF 270002 Heritage Single Watch Winder has a variety of great features to enhance your watch winding experience. These features include:
The exterior is made of black faux-leather
Closes with a chrome clasp
There are two knobs that control the winding
Has a glass cover
Unique rotation program, the sleep phase is already programmed into the machine
Newly designed and easy to use
Can take heavier watches
Runs on a 3.3V adapter, which is included
Can also run on both a D-cell alkaline battery, or lithium batteries
Measures roughly 5.3" by 8.8" by 6.75"
Pros
Affordable
Looks great
Easy to work
Works for a long period of time (even after a year)
Silent to use
Cons
Larger watches had a tough time fitting, even though advertised that they could be used in this device
Summary
At the end of the day, the WOLF 270002 Heritage Single Watch Winder is a terrific watch winder as it lasts a long time. We have seen too many conk out, even after just 6 months of use, but this model is still going strong after a full year. As well, it is silent to use and has a fantastic look.